Project: The Listening Machine
An orchestral sonification of social network dynamics.
by Peter Gregson and Daniel Jones, recorded with Britten Sinfonia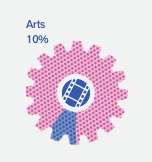 The Listening Machine observes the interactions of 500 UK-based Twitter users in real time, translating their words, sentiments and social behaviours into a 6-month-long piece of music. Commissioned by the BBC/Arts Council England as part of on-demand arts channel The Space, it combines natural language processing and algorithmic composition with a vast array of orchestral fragments recorded with the Britten Sinfonia chamber orchestra.
Multiple different elements make up the compositional process: sentiment analysis governs the mood of the piece; prosody analysis generates individual melody lines, based on subjects' syllables and rhythms of speech; and topic detection triggers preset modular segments and field recordings corresponding to given areas of conversation. The whole can be heard streamed live on thelisteningmachine.org between May and October 2012.
The graphic design is by Joe Hales, whose textbook-like aesthetic has translated perfectly to the screen. Implemented in HTML5 with liquid layouts to scale for various kinds of devices, the viewer can see a live visualisation of the current system state, with a cross-platform interface that is as happy on an iPhone as it is on a desktop.
"...an endless and beautiful piece of contemporary music" — El Pais
---
More Information